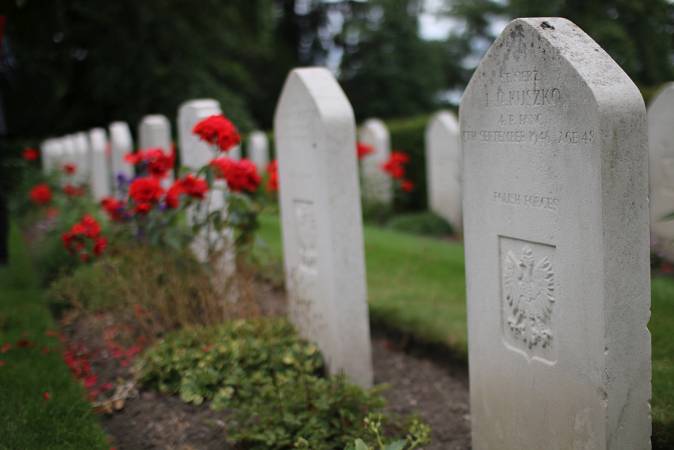 Wrexham Cemetery is the resting place of more than 1200 Polish people, 40 of which were Polish servicemen, whose graves are maintained by the Commonwealth War Graves Commission. Many played a major role in Poland's national history, their lives revealing fascinating stories of culture, war and the struggle for independence.
Lots of remarkable and distinguished Poles are buried in the Cemetery. Inscriptions on many headstones show that the person buried held prestigious awards such as the Virtuti Militari, Poland's highest military decoration, the Cross of Independence and the Cross of Valour. Jan Pilsudski (1876–1950) is buried here. He was a renowned member of the Polish parliament and fought for an independent homeland. His older brother was Józef Pilsudski, a Polish revolutionary, who proclaimed Poland as an independent state in 1918 and who is thought of as the father of modern Poland.
Why were so many Polish people buried in a Welsh cemetery? During the Second World War the Polish Army was defeated by Hitler's Germany and Stalin's USSR, but soldiers continued the fight alongside their allies, Britain and France. By the end of the War Poland was devastated and fell under the control of the Soviet Union, becoming part of the East European Communist Bloc. The majority of Polish people remaining in Western Europe chose to keep their freedom, and stayed to fight for an independent Poland. The British Army raised the Polish Resettlement Corps in 1946 to ease the move from military to civilian life, resettling those wishing to stay in Britain.
In the same year, three former American army hospitals at Penley, Llanerch Panna, and Iscoyd Park in Whitchurch, were handed over for use by Polish military field hospitals. They served not only the soldiers and airmen, but also their families and the wider Polish community who had made their home in the area after spending the war in camps in India, East Africa and the Middle East. Many of these people lived into old age and found a final resting place in this Cemetery.
All are honoured by the Polish war memorial, erected in 1989, and inscribed in English, Polish and Welsh. An annual service of remembrance is attended by members of the Polish Catholic congregation. 
Find out more of the Polish Burials at Wrexham Cemetery here.