Wrexham Football Club
Established in 1864, Wrexham Football Club is the oldest in Wales and 3rd oldest professional club in the world. It was formed by members of the Wrexham Cricket Club who wanted to play a sport during the winter. Wrexham played their first game in October 1864 at the Denbigh County Cricket Ground (The Racecourse). Wrexham Football Club have continued to play at the Racecourse Ground, now known as My Racecourse.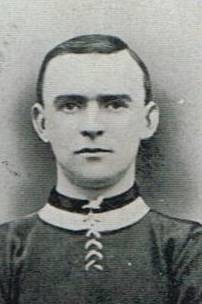 Horace Elford Blew, full-back for Wrexham Football Club and the Wales International team is buried at Wrexham Cemetery. He was born in Wrexham in 1878 and went on to play for the Wales international team. In 1906 he transferred to Manchester United making just one appearance, before moving to Manchester City later that year. Again he played just one game, replacing Tommy Kelso in a 2-2 draw with Bury. Although he only made 2 Football League appearances, he had 22 caps for Wales and was an automatic selection for the team between 1902 and 1909. After he retired from football he went into local politics and became Mayor of Wrexham in 1923. He died in 1957.
---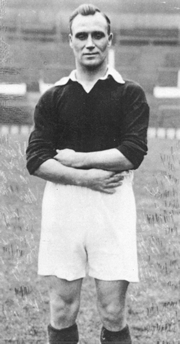 Tommy Bamford is Wrexham Football Club's all-time top goal scorer, scoring 201 goals in all competitions between 1928 and 1934. In the 1933–1934 season, he set another club record which still stands today, scoring 44 league goals (and 50 in total for the season). He made his international debut for Wales on 25th October 1930 gaining 5 caps for his country. He transferred to Manchester United in 1934 where he played a total of 109 games and helped the club win the Division Two title in the 1935–6 season. He returned to Wales in 1938 to play for Swansea Town. He retired following the end of the Second World War and went to work in a local steelworks. He died in Wrexham in 1967 at the age of 62 and is buried in Wrexham Cemetery. One of the hospitality suites at Wrexham's home stadium, the Racecourse Ground, is named 'The Bamford Suite' in his honour.
---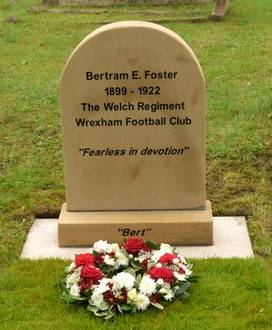 Bertram (Bert) Ernest Foster played in Wrexham's historic first Football League match against Hartlepool United in 1921. Prior to this he joined the Welch Regiment when he was 17 and fought in the Great War (1914-1918). When he died in 1922 at the age of 23, he was buried at Wrexham Cemetery in an unmarked grave. When this was discovered in 2014, the Wrexham's Supporters' Trust raised money for a new headstone.
Click here to watch Victoria C. P School's video about Bert Foster.