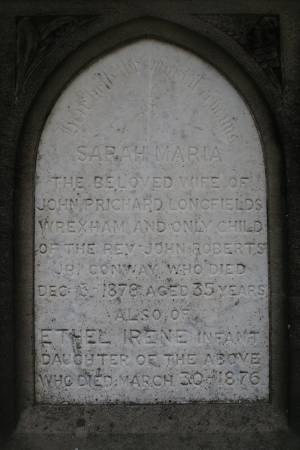 Wrexham Cemetery opened in 1876. The first burial was of an eleven-year-old girl: Ethel Irene Prichard. Ethel is buried with an ornate headstone which also bears the names of her parents, and other descendants who are laid to rest with her. The impressive grave and its location on the main path suggest they must have been a wealthy family.
Click here to watch Victoria C.P School's video about Ethel Prichard.
Although Ethel's burial took place in April 1876, the Cemetery was neither finished nor consecrated. It was not until 3rd July that the Cemetery was officially opened and the Bishop of St Asaph consecrated the site. A celebratory dinner for all those who had worked on the site marked the occasion.
Have a look at the memorial which reads
"In loving memory of John Prichard, Longfields, Wrexham, who died in Nov 1894 in the 56 year of his age. And of his youngest son Thomas Howard who died in Middelburg, Transvaal".
Middleburg, South Africa, was the site of a British built concentration camp during the Boer War – perhaps this implies the circumstances of his death?