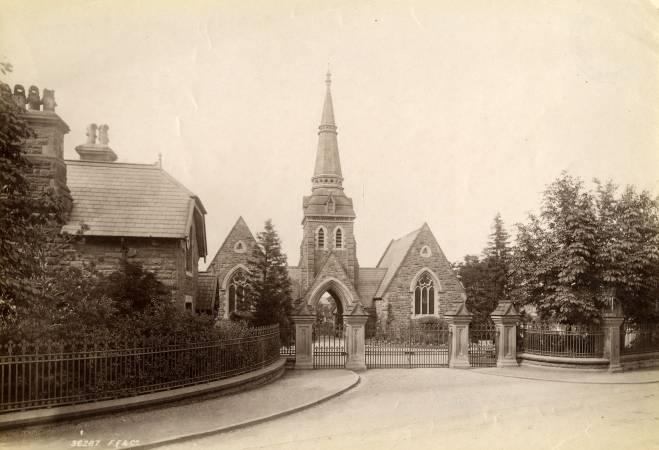 The Cemetery
Wrexham Cemetery covers an area of 7.2 hectares on the western edge of Wrexham Town, between the B5099 and the A5152.  It can be divided into a Victorian section and a more modern section, divided by access paths. The Cemetery is laid to grass, with the graves in the old part mainly kerbed and the newer sections laid out in rows. 
It is on the register of Historic Parks and Gardens of Wales. Two Grade II Listed Buildings, the lodge and chapel, dominate the entrance to the Cemetery. Railings and piers to the Cemetery entrance and boundary walls are separately Listed. Wats Dyke, a Scheduled Monument crosses the site, following the line of one of the internal paths. 
The site is surrounded by houses to the south and east, edged by a college to the north and a railway line and industrial estate to the west.
The Chapel building was restored in 2017. The east section houses a reception and research area, welcoming to public to find out more about the Cemetery, graves and family history. The west Chapel is used for services, events, group visits and educational purposes. The lodge building is privately rented. The Cemetery is open to the public between 10am and 4pm, during the winter, 10am to 6pm, during the summer.
If you are looking for burial information then please visit Wrexham Council website or ring 01978 292048. 
---
Restoration
Wrexham County Borough Council (WCBC) was successful in securing HLF Parks for People Heritage Lottery Funding to conserve and restore the Victorian Wrexham Cemetery. The project safeguarded the Listed Structures and ensured sustainable use, conserving the historic landscape. 
The project included a programme of activities and new interpretation, including this website, which enables people to learn about the history of the Cemetery and the people buried there. 
---
Image © Wrexham Archives and Local Studies